COOK SHACK 2020 - August 26 - "COVID SESSIONS" #5
                            Music:  Amelia Rose and Mike Stockstill, Cai and Owen Krikorian and BJ MacLean                                                                                   
                      Visual Art: Shai Wykes
                      Bhangra Dancing: by Gurdeep Pandher
                      Location: Klondike Hwy (Thanks Amelia, Mike and Ruben!)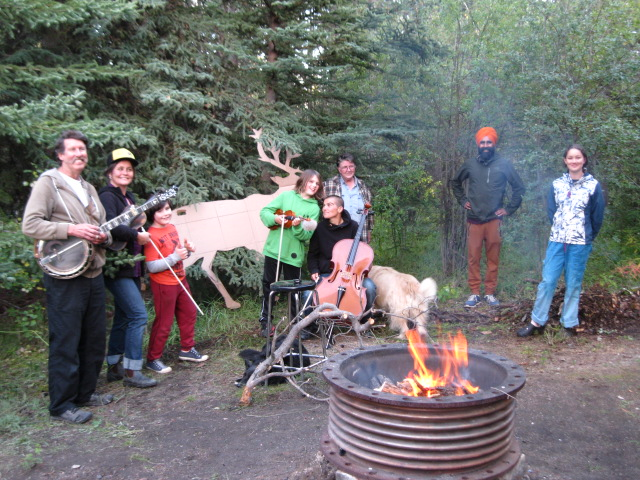 COOK SHACK 2020 - August 19 - "COVID SESSIONS" #4
                          Music : Barbara Chamberlin, Patty O'Brien, Kim Beggs
                          Visual Artist: Cai Krikorian
                          Location: 10 Mile Road (Thanks Mary and co-hosts!)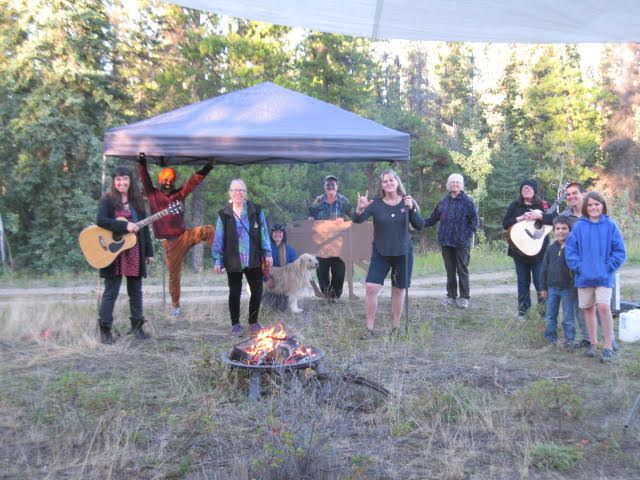 COOK SHACK 2020 - July 22 - "COVID SESSIONS" #3
                                     Music - Annie Avery and Anne Turner
                                                - Christina Mae
                                                - Jeanne George &Helena Macvane -Faro!
                                    Visual Artist - Nicole Bauberger
                            Location - Miners Ridge (Thank you Anne and Larry!)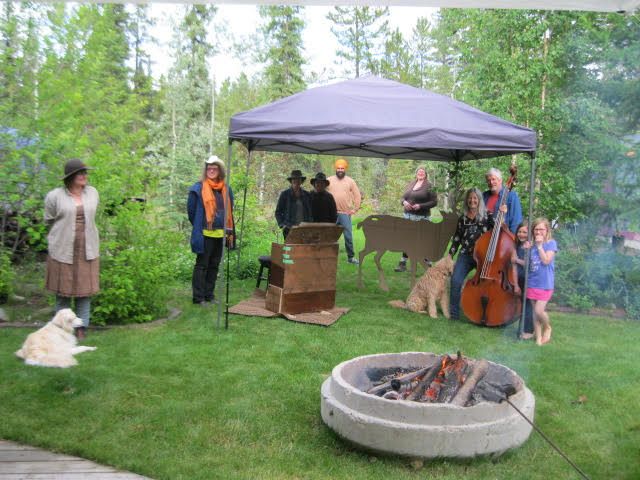 COOK SHACK 2020 - July 8 - "COVID SESSIONS" #2
                           Music - Nicole Bauberger, Tania Gosselin, Paris Pick
                           Visual Artist - Kim Beggs
                           Covid-19 Audience - 20 humans - yay!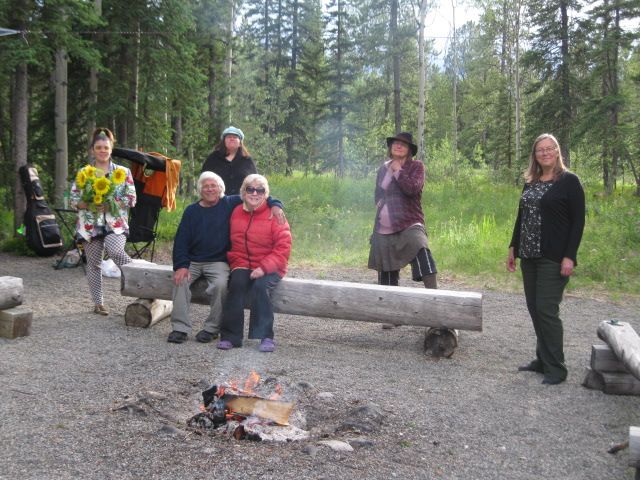 Cook Shacks 2020 - June 20 - "Covid Sessions" #1
                              Music - Amelia Rose, Tania Gosselin,  Kim Beggs   
                              Visual Artist - Janice Brodie
                 COVID - 19 Audience - Sedgewick, Mo, Grommet, Mojo and Goa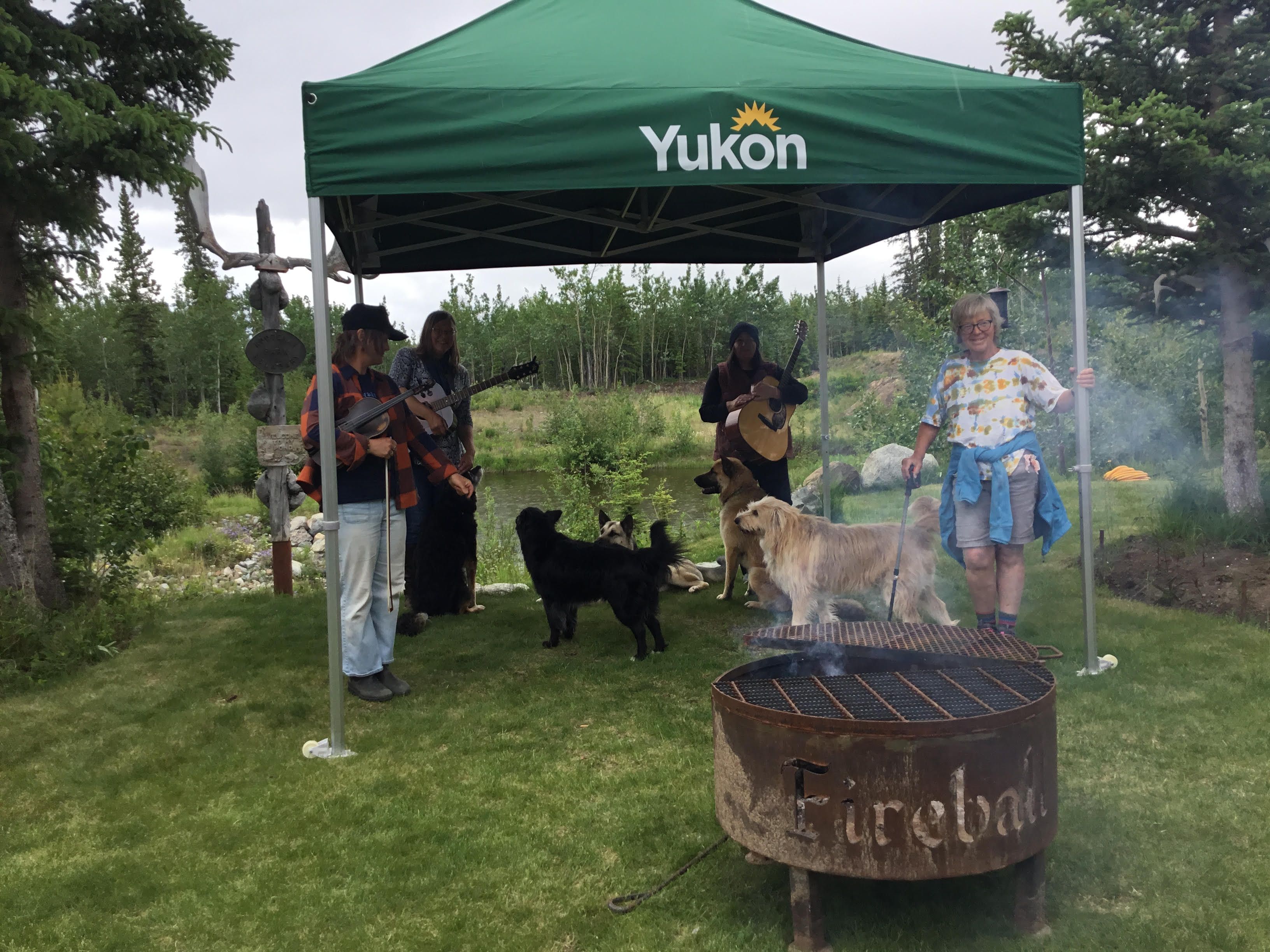 All of the videos can be viewed this winter on the NWTel Whitehorse Community Channel!
---
MAY VIRTUAL COOK SHACK SESSION
For our May Cook Shack 'Virtual Concert', these four fabulous women artists perform for you, from their homes here in the Yukon!
(Each photo is a YouTube link of the show.)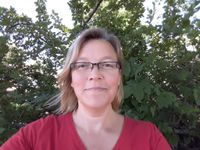 See the whole collection here at YWIM's own YouTube Channel!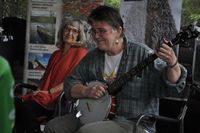 Summer 2020 was supposed to be our big 5 year celebration of Cook Shack Sessions, which has brought music and art to the remote corners of the Yukon. 
Unfortunately due to COVID - 19 we will not be celebrating in the campgrounds this summer. 
Instead we will be presenting a series of virtual presentations in a variety of formats and locations. 
"CHALLENGE 2020" - This year we challenged our YWIM Cook Shack performers to 
1) Perform a song or tune written by another Yukon woman songwriter or composer 
OR 
2) Perform an original work created for these unique events.  And now, here's the link to four fabulous women artists performing for you, from somewhere in the Yukon.  Enjoy!  
These events are made possible with funding from Yukon Government: Yukon Parks, Arts Fund, Tourism and Culture" Stay another Day"; PJ Productions, and Integrated Solutions, and amazing support from Yukon artists, crafters, businesses, volunteers and of course our wonderful audience! 
Thanks for supporting the Cook Shack Sessions! 
PS You can continue your support of this program during COVID - 19 by donating your refundable bottles and cans at Raven Recycling - Yukon Women in Music account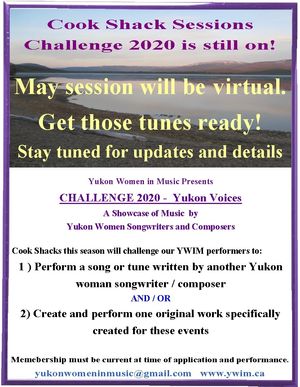 DUE TO COVID-19 THE YUKON CAMPGROUNDS WILL NOT BE OPENING IN MAY.
(links  https://yukon.ca/en/camping-permit  and   https://yukon.ca/)
We are working on a virtual presentation for May...so stay tuned for updates on this site, on our FB page, and by email to our membership list.
We look forward to seeing everyone around a real campfire again when the pandemic has passed.
Till then....stay safe everyone!
"Challenge 2020 - Yukon Voices"